THUNDERSHIRT - Drug-Free Anxiety Solution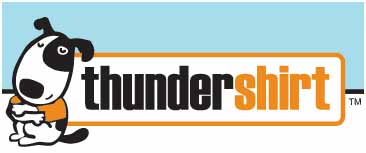 Thundershirt is a proven solution for many types of anxiety including noise, crate, travel, stranger, and separation anxieties. Over 85% of Thundershirt users are reporting significant improvement in anxiety symptoms, whether noise, separation, or any other anxiety! This is the T-Shirt TTouch Practitioners, veterinarians, trainers, and more are using. Only $39.95 to help your pet stay anxiety-free!
TTOUCH - REFERENCE BOOKS:
When you purchase one of these TTouch books from Mindful Tails, we offer email assistance on TTouch-related questions.

Getting in TTouch with your Puppy:
A Gentle Approach to Training & Influencing Behavior
by Linda Tellington-Jones

Discover unique exercises that teach puppies to execute certain tasks, instilling them with self-confidence and expanding their abilities to concentrate and learn. You'll find out about: crate training; riding in cars; feeding and nutrition; housetraining; going for walks, leading politely, and negotiating obstacles; "Sit," "Wait," "Down," and "Come"; meeting other dogs; relaxing in strange environments; grooming, nail, and tooth care; visiting the veterinarian, and more.

In addition, there are step-by-step instructions on the famous TTouch circles, slides, and lifs; gentle bodywork that has a scientifically proven, positive effect on the behavior, willingness, and health of all animals, while also deepening the relationship between animal and human. PB $14.95
_________________________

The Tellington TTouch: A Breakthrough Technique to Train & Care for Your Favorite Animal
by Linda Tellington-Jones with Sybil Taylor

TTouch Method has proven enormously beneficial for all kinds of animals, from horses, dogs and cats, to elephants and cockatoos. Covering a wide variety of animals, including domestic & zoo animals, this is a wonderful definitive book for learning about the Tellington TTouch and an intriguing account of Linda's experiences from around the world. PB 277 pp. $14.00
______________________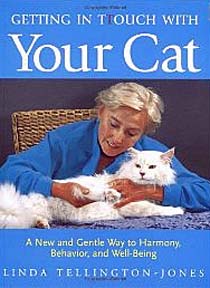 Getting in TTouch with Your Cat:
A Gentle Approach to Influencing
Behavior and Health
by Linda Tellington-Jones
TTouch is widely known for its powers of healing, training, and communicating; now, a TTouch book written specifically for cat owners, breeders, and veterinarians, offering advice on how to solve a wide range of behavioral and physical problems. Learn how the TTouch Method can help cats adapt to new environments, calm timid or nervous cats, and correct aggressive behavior like biting, scratching, and fighting. The book also illustrates the physiological benefits of TTouch and how it helps to ease pain and stress caused by arthritis, carsickness, digestive problems, and other disorders. This delightful new book for cat owners features 170 color photos. PB $13.95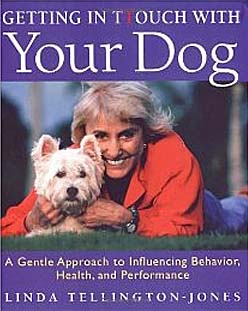 Getting in TTouch with Your Dog:
A Gentle Approach to Influencing Behavior, Health, and Performance
by Linda Tellington-Jones
This book offers a positive, no-force approach to training plus much, much more! Using a combination of specific TTouches, Leading Exercises, and the Confidence Course (exercises over obstacles), a dog's performance and health is improved, common behavior issues are solved, and physical problems are positively influenced. PB 128 pp., 226 color photos, 17 color drawings. $16.95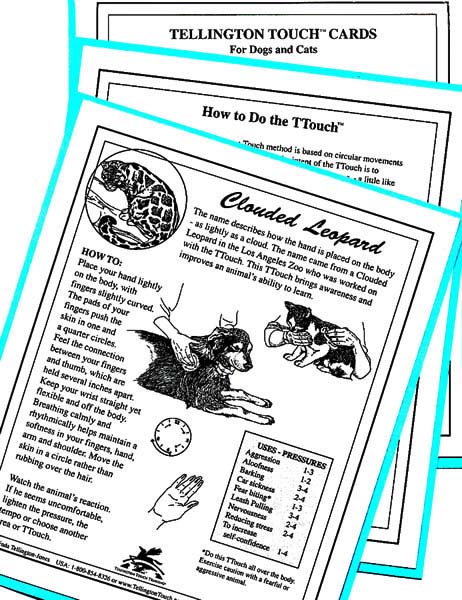 __________________________

Magic of TTouch Cards
for Cats and Dogs
TTouch Cards give an illustration and description of the TTouch and can be laminated for use outdoors. They can be a handy reference for working with animals when you cannot refer to the video.
17 cards. 7" x 8.5"
$8.95/packet
TTOUCH VIDEOS
VHS or DVD versions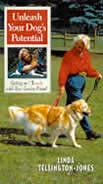 TTOUCH for CATS:

This video will enhance your partnership with your favorite feline. The TTouch is demonstrated on a number of interesting cases to help correct undesirable habits, improve focus, promote healing, and create a closer relationship between and your cat.
$29.95
TTOUCH for DOGS:
The focus of this video, a companion to the book, "Getting in TTouch with Your Dog," is how to achieve a relationship based on appreciation and friendship, rather than on dominance and submission. Linda demonstrates how dogs are helped to overcome many physical and behavioral issues.
$29.95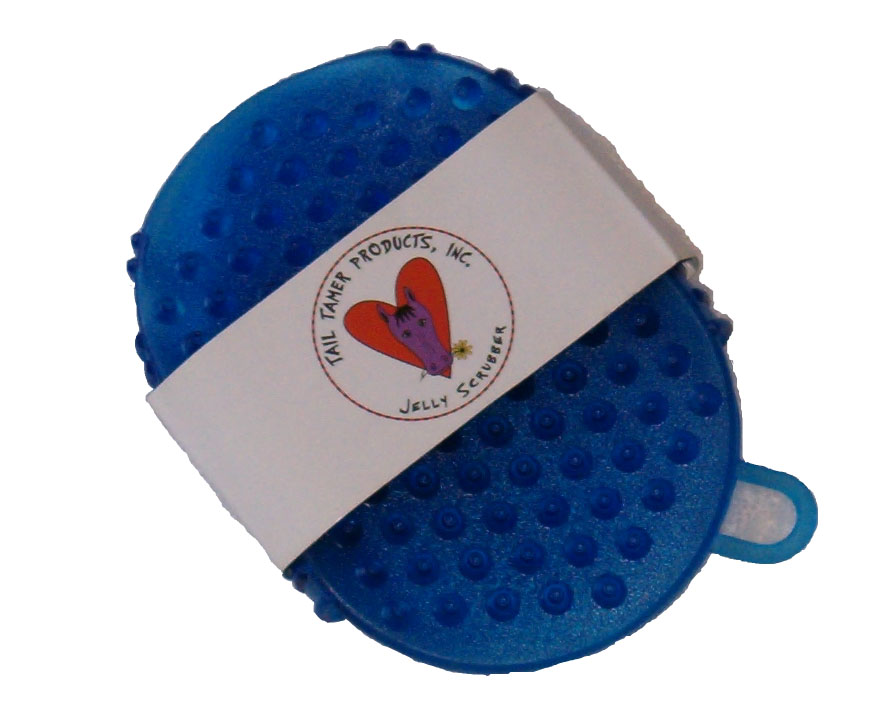 A wonderful hand-held soft tool that follows the contour of your hand. Great for doing the TTouch, bathing or grooming to help wash out the deep down dirt, as well as give a relaxing massage for your animal. Won't strip hairs. For all animals, in large and small [hand] sizes. Cats and dogs love it! (Assorted colors)
DOUBLE-END Training Leash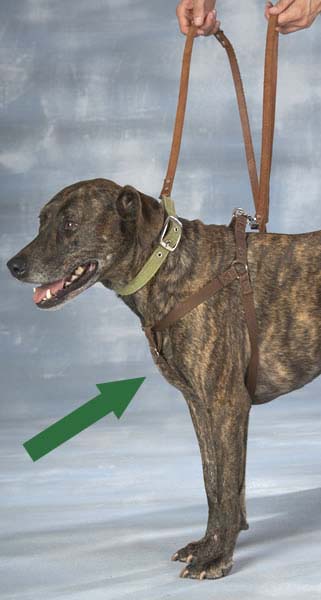 A great training tool. 7' nylon or 6'6" leather leads, with double-ended snaps, allows for two points of contact during training sessions, or even for an afternoon stroll.
Nylon 7' Leash: $14.95
Leather 6'6" Leash: $21.95

Fully adjustable with 2 D-rings for added strength and safety. The Step-in harness is another great training tool, easy to use, and dog-friendly. This nylon harness puts no excessive pressure on your dog's neck. Just step your dog in , snap and go! Assorted colors: Black, Red, Green, Blue, Purple

A gentle tool for helping your dog to relax while training.
Black only.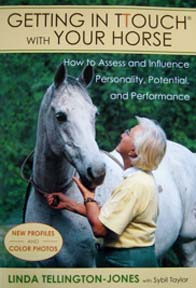 By analyzing the shape of your horse's head, eyes, ears, chin, jowl, and profile, you can learn their innate personality and understand how to improve your horse's performance. Actual case histories are explored; over 200 photos, 6 drawings. $19.95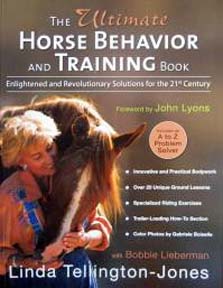 The Ultimate Horse Training and Behavior Book: Enlightened and Revolutionary Solutions for the 21st Century

At last, the definitive work of Linda Tellington-Jones, including everything you need to learn and practice the world famous Tellington Method! This is a book destined to be on every horseperson's bookshelf.
This book is the 'encyclopedia' of TTouch and has over 300 colored photos and many drawings. The book contains the philosophy of the work, more than 60 typical problems that horse-owners run into, complete descriptions with photos of all the TTouches, Ground Exercise, and Work under saddle, as well as 50 photographs of a trailer loading session with a yearling colt who had broken his withers in a trailer and had refused to load. Gabrielle Boiselle is the photographer with her special eye for horses. $29.95

Let's Ride! with Linda Tellington-Jones: Fun and TTeamwork with your Horse or Pony by Linda Tellington-Jones with Andrea Pabel

TTeamwork with your Horse or Pony! A book for all riders that teaches fun activities - bareback riding, jumping, bridleless riding - plus the TTEAM ground work and the TTouch. 372 colored photos Hardcover 117 pp. $19.95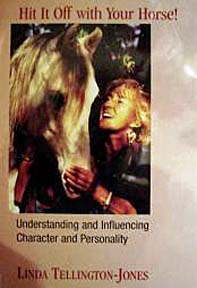 Hit It Off with Your Horse! Understanding and Influencing Character and Personality
Internationally acclaimed equine expert Linda Tellington-Jones presents an excellent guide to determining your horse's personality by analyzing his head and body conformation. In this video she visits different horses and their owners, and discusses each horse's facial features and body type, breed, and the kinds of behavior that often accompany specific traits. A perfect companion to the book Getting in TTouch. (DVD format only, 54 min.) $24.95